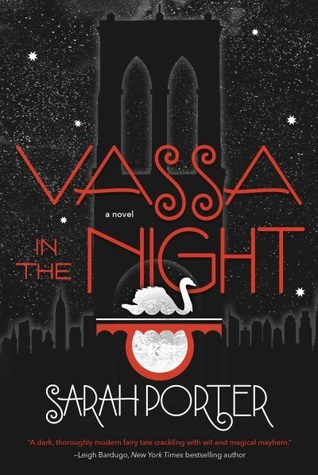 "What did I borrow from myself, and how will I ever get it back?"–Sarah Porter, Vassa in the Night
I found this book at McKay's Used Books, read it in two days, and foisted it onto my roommate the moment I got to school. She read it in one day–something I really should have done, because it does take fairly constant immersion/attention to hold on to all the strands of this story at once.
Vassa in the Night, by Sarah Porter, is an bizarre, whimsical, and [some other word that won't do it justice] retelling of the Russian folktale Vassilissa the Beautiful. Only it takes place in Brooklyn, and Baba Yaga owns a murderous 24-hour chain store, and it's one of the weirdest and most beautiful books I've ever read.
Any retelling of myths/folktales/fairy tales that haven't been done a million times in the last few years immediately catch my eye, as does the striking cover. But more attention-grabbing that is the the surreal magical realism that Porter wields as if painting a watercolor.
Contained within this book is an eccentric cast of characters, even more eccentric events that will make you pause to ask if that really just happened, and a protagonist who must discover her ferocity, her history, and her missing piece, or be lost.